Course details
Course course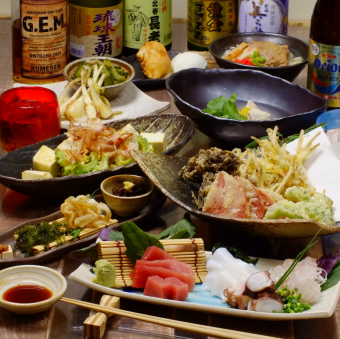 3300 yen
※ The marked price is excluding tax.
Reservation deadline

Until 17 o'clock on the desired shopping day
Available days for reservation

Monday - Sunday - Public holidays - Holidays
Full of fish in Okinawa! Satisfaction plan with dessert ♪ Recommended for various banquets ☆
Course menu
◆ Course content ◆
· Appetizer platter
Island grapes, cold, mimic, ocean grapes, mozuku vinegar etc Okinawa platter!
· Prefecture-produced fish sashimi prime
Prefecture-produced fish stubs such as island octopus, prefecture tuna, prefecture squid, etc.
· Champuru ~
Please choose from Goya, Somen, Fu, Tofu, Papaya, Carrot, Shirishiri ♪
· Okinawa food ingredient tempura prime
Island island · Mozuku · Goya and other island vegetables in tempura
· Steamed rice with gluke
Okinawa Prefecture fish
· Okinawa soba or taco rice
· Blue Seal Ice
2018/05/07 update